A Conversation with Marcus Williams
Marcus Williams comes into the season as the forgotten Spur. The Spurs signed him from the Austin Toros on April 8. Marcus Williams was the D-League's best player at that point. His numbers in March were good, averaging 25 points, 7 boards and 6 assists a game.  But April was something else entirely: 27.5, 10.5, 11.5. After spending the better part of two years with the Austin Toros, Marcus Williams was looking like an NBA player. And strangely enough, the former Arizona small forward was doing his best work as the Toros' point guard.
That's where I began a recent conversation with Marcus.
"Well, yeah," Marcus began. "I played point all through high school and a little during my freshman year of college. Coach Snyder set us down last year and basically said we need to figure out how to get all our best players on the floor together. At the time we had Malik Hairston, DeMarcus Nelson and Dwayne Jones. Coach Q wanted everyone on the floor. I had been there two years and so I told the coach that I knew the offense the best, I knew what he was looking for, and that I could play point."
"Coach Snyder knew me from my days in Seattle. He said, 'Alright, let's give it a shot.' From there it was easy. I love passing the ball, and we had a bunch of talented guys that made me look good."
Did Marcus think the switch to point was crucial to his eventual contract with San Antonio?
"Well, you know, it took work. I knew the system, but Coach Q and I still had to put in time. We were working together before practice, after practice, on off days.  My growth as a player is 90% Q and 10% me. We worked on a lot of things, especially foot work and how to handle the pick and roll."
"I think the move to point helped show the Spurs what I was capable of doing. They know that I'm a guy who knows the system. A guy who can play three positions for them. A utility player who can score if they need me to, but who can also handle the ball and make the pass that leads to the scoring pass. And I like to do those things, so it's a good fit for me."
Marcus' knowledge of Gregg Popovich's system was a major theme of our conversation. It's a theme that resonates throughout the Spurs' program, whether in Austin or San Antonio. The Spurs are one of the few NBA teams that own their D-League affiliate. They treat the Toros as a true farm team. The two teams share offensive and defensive schemes. The plays Marcus Williams runs in Austin are the same as those Tony Parker runs in San Antonio.
One would assume that Marcus is entering Spurs training camp with an advantage over other roster hopefuls such as Jack McClinton.
"I wouldn't want to call it an advantage," Marcus begins. "I'd say it gives me a good comfort level. I'll have a better understanding of what's going on. The Spurs run a lot of stuff off reactions. So having experience in the system, having gone through a Spurs training camp my rookie year, and the work I've done with Coach Snyder will help."
"Playing the point at that level will be something new, but I've grown a lot as a person and a player. I'm comfortable with it, and I'm ready."
Grown as a person? Hmm. Where did that come from?
"Coming out of Arizona I was twenty years old coming into a man's league. Then when the Spurs released me as a rookie, it was difficult for me. I spent my first year in the D-League–actually, I was called up by the Clippers, but that didn't work out. That added to the frustration on my end."
"At the end of the day I had to sit down and figure out how to channel the frustration. For me it meant growing up. I had to learn to be a better teammate. You've gotta be a man. Handle the mental stuff, and then handle your business on the court. Going through that has definitely helped out on the court. I'm more focused, more prepared mentally."
As Marcus was explaining his personal transition, I couldn't help but remember my time at the predraft camp.  One question I had asked nearly ever player in attendance was whether they had considered the possibility of playing in the D-League. None of them wanted to hear about it, much less speculate what life would look like as a member of the Iowa Energy. I rehearsed this to Marcus, suggesting that guys are ill-prepared for the hard work required to stick in the league. To his mind, this was only half right.
"It's not because guys are afraid of hard work. Most of the guys will put in the work. But you have to remember, these guys have been stars most of their lives. Going to the D-League is hard for guys to think about because it's the first time someone will tell them they're not good enough. And, you know, that is what they're telling you when they send you to the D-League: 'You're not good enough to play in the NBA.'"
"When someone tells you that you're not good enough, it hits home," he continued. "It's probably the first time most guys have ever heard that. That conversation is really tough. Sure, it takes hard work. But the mental part is rough."
"Coach Pop is good on this. He says that when you tell a guy he's not good enough, you don't want him to run from you. Some guys hear 'you won't ever be good enough to play' and other guys hear 'you're not ready, yet.' There is big difference between the guys who hear they're not good enough and bottle themselves up and the guys who hear it and start to make their way through."
Throughout our conversation, Marcus spoke glowingly of the D-League, and especially of the Austin Toros. He's clearly a proponent of the D-League in general, and of the Austin Toros in particular. But he also makes it sound like a miserable experience. What gives?
"It's definitely a good thing, but I don't think you'll ever have guys who'll dream of playing D-League. But more and more you'll have guys who realize it's a big help. It helped me become a better player. It has helped guys like Mike Taylor. Those guys are in the NBA because of their time in the D-League."
"One thing college kids don't understand is how hard it is to get to a team and not play. Because most teams don't play rookies. In the NBA you don't really practice much after the beginning of the season. And if you're not good enough to play, that means you're just sitting around. The coaches are busy, the stars are resting, there isn't a lot of time for player development. Being in the D-League allows you to keep your confidence up, to play a lot of minutes, and to work on your game."
"The D-League is a place where doors open for players. I was fortunate. I never had to play for another D-League team other than the Toros. The Spurs are really first class, and that shows up in Austin. Coach Q is terrific. He's responsible for my growth. I learned more in two years with the Toros than at any other time playing basketball."
If knowledge of the system was one of our conversation's major themes, Coach Snyder was the other. I asked Marcus to tell me about his relationship to the Toros coach.
"Coach Q is great. We definitely have an understanding.  It's a struggle to go from college star to the D-League. But Q kind of went through the same stuff after Missouri. It hurt us both, but he had gotten over it. So he was there to help me get through the process. He told me, 'look, if you're not willing to move forward, you're gonna go backwards.' He had a lot of faith in me on the court, which helped my confidence. Then he took a chance on me at the point guard spot and it worked out well."
"But that doesn't mean he wasn't hard on me. When I started playing point, he was always on me about footwork. Every day before practice he would work with me on ball handling, footwork and how to handle the pick and roll. He was always there. If I had questions, we'd get together for a private session and work on it."
"There is a big difference between college pick and roll and NBA pick and roll. In college, everyone just hedges. That's basically the only way the pick and roll is played. But in the NBA there are dozens of coverages. In the NBA you really have to learn about things like the hockey assist–making the pass that leads to the scoring pass. It's often a simple play, but it takes time to recognize where those passes are. And the pace is so much different than college. People say the NBA is slower, but it's only slower sometimes. If the shot clock is down to 10 then the NBA feels much more like a quick burst. You don't really have those changes of pace in college. And, of course, you've got a lot of bigs who can cover like guards. Coach Q helped me understand all that."
At this point in the conversation, I became a little suspicious. Didn't Marcus have any D-League horror stories? As soon as he heard the question, he began to laugh.
"Sure. We were in Boulder, staying in a dingy inn. It was so cold the water had froze. No showers. And the place was cold. The heat was on, but it didn't really feel like it. I went to the front desk for three extra blankets, curled up in my sweats, with a few pairs of socks and a hoodie, shakin' in the bed. That was all before a game."
"There were some rough times. It definitely tests how much you love basketball, I will say that. "
What does Marcus see for himself this season, now that he's completed his D-League stint?
"Well the Spurs have changed a lot. Bruce Bowen was my locker-mate in San Antonio. He kind of took me under his wing. He talked to me a lot. Helped me a lot. It was great because he's been through the same adversity, playing his first few years overseas. He was great. First class player. I wish him luck, but it will be weird not having him there."
"He definitely epitomized what it meant to play a role. They wanted him to play defense, so he became First League All-Defense. And now he has the jewelry to show for it."
"But the team has added talent. Last year Tony showed that he is one the best point guards in the league. But he played a lot of minutes. I'd like to help the team by being another guy who can handle the ball. To take some pressure off guys like Tony, Manu and George Hill."
"When Brent Barry was in San Antonio I loved to play pick up with him. I wish I could shoot half as good as him. But people don't realize that he has some point skills. He was great in pick up because he's such a good passer. I'd like to bring that to the team this year. I want to be a guy who helps everyone stay involved."
But is this what Popovich is expecting of Williams?
"I had a chance to talk with Pop after the season. I asked what I needed to bring to the table in order to make an impact. He told me that no one doubted my ability to make plays on offense, but that I couldn't be a liability on defense. Being able to defend would get me on the floor."
"I hurt my wrist a little this summer, and that turned into a blessing in disguise. It gave me an opportunity to work on my lungs and lateral quickness. Pop said I could have turnovers and miss shots, but I had to play defense on every play. Other than that, they just want me to be active and aggressive. They don't like shy basketball players. They want me to be assertive."
The bit about lateral quickness caught my attention. Marcus Williams is a 6'7" small forward turned point guard. Does he have the lateral quickness to guard true smalls?
After a long pause he offered this response: "That's one thing I want to show them. Listen, it opens up playing time for me if they can trust me at three positions. All summer I've worked hard at being able to guard three positions. I want to guard Tony in camp; I want to guard Richard Jefferson in camp."
I switched gears on Marcus. What was it like going into training camp with two other players, Malik Haiston and Ian Mahinmi, who cut their NBA teeth in Austin?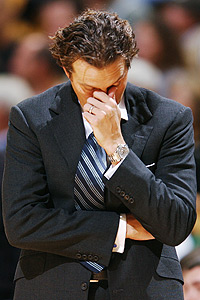 "You know, it's great. We've played a lot of minutes together. And that's not including all the pick up. There's a lot of familiarity. And it's been great…not really a rags to riches story, but a common history. Last year was Malik's first year in the D-League and my second.  It was cool to watch him grow as a player. As long as I've been in San Antonio, I've been playing with Ian. It sort of feels like were a rookie class coming from the same college team. It's not quite the same, because they've already made us feel like part of the team, even when we were in Austin. So the three of us just want to come in and help the Spurs succeed."
And finally, our last talking point. Quin Snyder's hair. I had to know, does Coach Q apply product during time outs?
"I'm not sure how Coach keeps his hair like that. He just plays with it so much that it stays fluffy. He has some type of special gel. It might be prescription. All my friends and family that have come to games say stuff about his hair. They think he wants to be a movie star."