Spurs Face Expiring Time and Contracts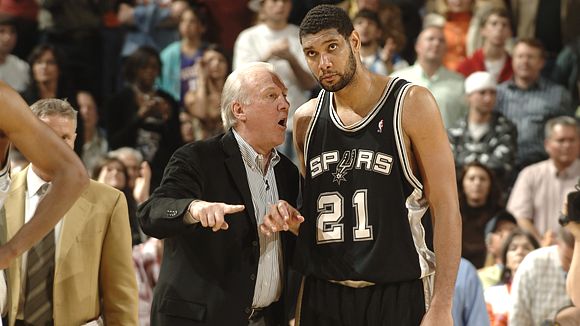 Leaving the All-Star weekend, perhaps no theme encapsulated the Spurs more perfectly nor enemy loomed so big–well, maybe the Laker's frontline–as time.
And not just time, as in the amount of time left in their stars' careers, but timing. Timing is everything.
Had they held onto their trade assets just a little longer into the summer perhaps Stephen Jackson would be rejuvenating the Spurs instead of the Bobcats. Or if they did nothing perhaps the theme of this article is the time remaining until the 2010 free agency period.
As it stands now, two Texas teams have made similar moves for All-Star caliber small forwards and a solid, double-double big man. Only one team still remains enthused by said move.
I bring this point up because the Spurs time is running out on several fronts. The largest of course is the time remaining in their window of championship contention, which is tied directly into the time left in Tim Duncan's legs. There's the time left before Manu Ginobili's contract expires, and of course the CBA negotiations remain a ticking time bomb.
But the most pressing countdown for the Spurs are the few days left before the trade deadline.
Not too long ago I made the argument that the Spurs could afford to keep their roster as is. I now believe it is imperative that the Spurs make a move, and not just because the Mavericks trade, but because of timing.
Over the summer the Blazers signed Andre Miller, an obvious poor fit, because past the summer the Blazers contract extensions kicked in and their cap space vanished. At worst, they now have another asset to make a more significant move.
The Spurs currently hold several contracts that are potentially more valuable as trade assets than the production those players are offering on the court this season. But those contracts expire as assets when the trade deadline passes because they will not, as believed before the Jefferson trade, turn into a trove of cap space.
The only other option is to wait until Jefferson and Parker's contracts expire and rebuild after next season as my colleague suggested, but holding onto assets too long can leave teams with nothing to show for them, as ESPN's John Hollinger pointed out in his assessment of the Nets' horrible season:
The Nets clung to the remnants of their two-time Eastern Conference champions too long rather than start the rebuilding process, which is why the current edition is so painful to watch. New Jersey got Harris for Kidd; a year earlier they might have been able to get Andrew Bynum. They waited until Richard Jefferson was on the downside of his career before sending him to Milwaukee for the least-productive starting forward combo in memory, Yi Jianlian and Bobby Simmons. Ditto for Vince Carter, who went to Orlando in a deal that returned only Lee (a decent rotation player),Tony Battie and Alston, who was later waived and signed by Miami. Not a terrible haul, but hardly the pieces they could have had a year earlier.
And who is to say the Spurs will ever find themselves in such a favorable market again? Right now, depending on your perspective, there is a perfect storm of teams reeling from a poor economy, teams clearing cap room for Lebron James and teams shedding weight before the new CBA kicks in.
The Mavericks aren't the only team currently ahead of the Spurs that are looking to improve. In fact, Mark Cuban and company might not even be done dealing  yet. With Brendan Haywood on board, Erik Dampier and his sizable expiring contract are now available to make another serious upgrade.
Couple that with the fact that we have no idea how Tim Duncan and Manu Ginobili will hold up over the second half of the season, let alone the next two years, and the time to act is now.
Make no mistake, it's an arms race out there. And with an Air Force background and a degree in Soviet Studies, Gregg Popovich should have an extensive working knowledge of what a proliferation of arms can do to a country without the resources to sustain it.
Timing is everything. And time is running out. Right now the Spurs have the assets and opportunity to capitalize on it, they just can't let their assets expire along with their valuable contracts.