Not Another Team Preview: Southwest Division
Preseason is in full gear and by now every major team publication or basketball website has had their season previews out for some time. Without much to add to the offseason (ESPN's John Hollinger beat me to noting Matt Bonner's new teardrop, which will only add to his +/- greatness), I thought I'd change things up a little bit.
Just as every NBA franchise has its own unique style or wrinkle, their fan bases are distinctly different from one another. Sure, the same terrible music is blasted through each arena, and the loudest ovations are often for the free t-shirts these days, but we all love our teams in different ways.
So without further ado, here is 48 Minutes of Hell's first NBA season preview of each NBA fan base. Feel free to consider this the wikipedia of NBA fans and add on anything we may have missed out on in the comments section below.
Dallas boasts some of the more insufferable fans in the United States, though admittedly most of it stems from the Dallas Cowboys side of things. The Mavericks' fan base has been invigorated since the arrival of Mark Cuban — though, oddly enough, the fans seem to love Cuban for the exact same reasons they loathe Jerry Jones (in terms of sports, they're basically the same guy, only different generations). Dallas can create a hostile environment, though that hostility at times has a large hint of frustration. They once booed Michael Finley for receiving a cheap shot below the belt, despite him being a cornerstone of the franchise for so long — and not having any say in his departure from Dallas.
Dallas has a longtime standing rivalry with the San Antonio Spurs, one suffering a big brother/little brother syndrome that has turned nasty since former Spur Avery Johnson shaped them into a unit capable of defeating the Spurs. To a lesser extent, there is also a hint of a rivalry with Phoenix since the loss of Steve Nash. You see, the Mavericks have always been bridesmaids, but at least they were the league's prettiest bridesmaids. Without Nash, they're not pimply-faced, but they're not in their wedding day makeup either.
Strengths: Travel as well as any team among the Texas triangle — they fill up the AT&T Center. The only non-coastal team that can compete with the Lakers and Heat in terms of overall eye candy, only more real blondes and less silicon.
Weaknesses: Follow the traits of owner Mark Cuban, for better and worse. For some reason are heavily entertained by a group of obese, balding men performing awkward dance routines.
In the mind of the fans
"Tony Parker is over the hill and already breaking down, but look out for Jason Kidd and Jason Terry!"
"Mark Cuban tells us that it's okay that we ditched Steve Nash in favor of a limited defensive center with an albatross contract because we were able to turn him into a limited, defensive center with an albatross contract and injury problems."
Once known as clutch city, the Houston fans strength now lies in numbers. While this fact does little to help them at the gate, it does leave the Rockets as the biggest "swing state" in terms of All-Star voting. They've voted the corpse of Tracy McGrady's career into the game before, and were on track to do it last year. Chances are, an under 25 minutes per game Yao Ming will be your starting Western Conference center, with an outside shot he will be joined by Aaron Brooks this season.
Houston fell behind the Spurs-Mavericks in terms of rivalries with other teams. Though if their players are ever able to maintain their health, that could certainly change. And no matter how far their team fares, Houston Rockets fans will always have this tape in their back pockets:
Strengths: Musical hotbed of Texas, the brilliant lyrical stylings of Houston Rockets fans have produced such hits as the Yao Ming song.
Weaknesses: All-Star voting (would it kill everyone to have Steve Nash as the starter every year?). Luis Scola Mullet wigs.
In the mind of the fans:
"Darryl Morey + Shane Battier x Per / (adjusted +/-) (E=mc2) = championship!"
"At least we only have to worry about one set of bad wheels this year."
Memphis Grizzlies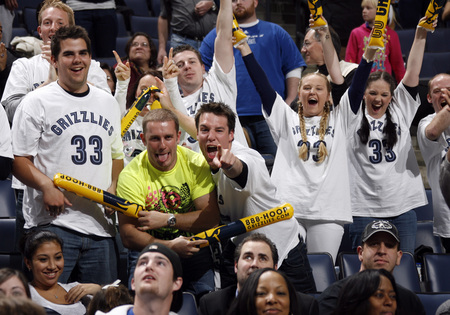 Vancouver is a beautiful city, Memphis boasts beautiful barbecue (something a young Marc Gasol can attest to). Unfortunately neither seem to be enough to support a viable basketball team. Of course it's a little hard to determine if Memphis is not an NBA city, or if they're merely understandably not an NBA city so long as the team is owned by Michael Heisley with Chris Wallace as the general manager. There is some raw potential here, however. Zach Randolph used to have a game only a mother could love, so long as she didn't have to actually watch it. Yet, here Randolph has found a following, at least until he reverts to old habits while waiting to get paid like Pau Gasol. And to the Gasol fiasco, it takes a certain level of blind devotion to talk yourself into believing that deal was not so bad, or that O.J. Mayo is a point guard.
In terms of rivalries, there are not many teams the Grizzlies can claim to share one with — there just isn't enough history or success to have earned one — though they can feel free to debate the merits of Kevin Love for O.J. Mayo all day. The closest thing to a rivalry might be the fact that every fan base not associated with the Lakers (or former Laker-now-Heat fans) absolutely despises Chris Wallace.
Certainly the city of Memphis proved they can be a rabid fan base, just watch the college game. Sadly, until the owner is willing to step aside, there just might not be enough to root for.
Strengths: The first city in NBA history to build a connection with Zach Randolph. Might have the tallest fan watching from the stands in all the NBA…..
Weaknesses:…unfortunately that fan also happens to be their no. 2 overall draft pick (pictured left) in a draft which had many successful point guards (an area of need). The Michael Heisley/Chris Wallace combination. That bond with Zach Randolph was not extended to the right Gasol brother (that'd be Pau).
In the mind of the fans:
(From the comments section of a post last year) "The aftermath of the Gasol trade is probably evaluated more in Memphis than in any other place.
Essentially, the Grizzlies gave up Pau to get Marc, draft picks and cap space. After trading Darko for Zach Randolph (via Q-Rich), the de facto final score was Pau + Darko for Marc + Z-Bo + 3 first round draft picks. (And one could argue that because of the cap-space, the Grizzlies got another first rounder and Steven Hunter out of the deal)
Right now, there is MAYBE 1 or 2 PF/C tandems that combine for more points and rebounds, than Gasol and Z-Bo.
Without question, it has worked out well for the Grizzlies."
New Orleans has a storied history when it comes to exciting, cutting-edge point guards. Sadly, it's on the verge of being the team that lost three of them (one who played college ball in their own backyard, no less). Pete Maravich left with the franchise, Baron Davis left when he went Baron Davis, and Chris Paul's strategy seems to fall somewhere between Carmelo Anthony and LeBron James. The Hornets have two home court advantages that few can replicate: Bourbon Street and a shameless knack for stretching the definition of an assist.
The advantage of Bourbon Street is pretty self explanatory. The way they credit assists in New Orleans pretty much guarantees any point guard they bring in will be in the talk for All-Star considerations. Chris Paul is the best point guard in the league, mostly for his ability to collect two assists per basket. Another, more taboo, advantage is the potential for Voodoo assistance, though most of that seems to be saved for the reenergized Saints, as the only bad luck in New Orleans sports seems to happen to the Hornets themselves.
Strengths: An intimate knowledge of opposing players gleaned from wild nights on Bourbon Street. Voodoo. Every home point guard is a pure point guard in New Orleans. The perfect nickname between a team and city….
Weaknesses:…is unfortunately in Utah, where Jazz fits right in with the conservative culture of Salt Lake City. Keeping point guards.
In the mind of the fans
"Woooooooooooooo"
"He's not LeBron, He's not LeBron, He's not LeBron…"
San Antonio Spurs
Among the rowdiest fans in the NBA (they once dumped guacamole on visiting head coach Larry Brown).  Sadly, the baseline bums have been removed from the baseline and now sit in the upper reaches of the lower balcony, leaving the day to day standing ovations to free t-shirt time and heated playoff games. Without controverisal media coverage (or much media coverage at all for that matter), most Spurs fans can sit back and enjoy the basketball. In a sense, much of the sedation can probably be attributed to the personality of its head coach, Gregg Popovich, who is known to enjoy wine tasting more than keg parties.
San Antonio Spurs fans are also among the most stereotyped in all of sports, as network executives send out the memo during every playoff series to get the obligatory shot of overweight mariachi players drunkenly screaming "Aye hay hay…rrrrrrrrrrrrrrrrrrrr!". We enjoy heated debates on the merits of +/- as it pertains to red headed spot up shooters, and the ocassional "Fire Pop" or "trade the French point guard" rants.
Spurs fans have a heated rivalry with Dallas fans, though hate to admit it. San Antonio perfers to think of itself as rivals to bigger game, like the Lakers.
Strengths: Ability to celebrate championships without burning down the city or rioting. The best hangover cures in all the United States. Eva Longoria. The land of 1,000 taco stands…
Weaknesses: …unfortunately most fans hit up each of those taco stands before and after each game. Decimals and asteriks, both due to the Lakers.
In the mind of the fans:
"Tiago Splitter is here! Tiago Splitter is here! Thank God Almighty Tiago Splitter is here!"
"Splitter is nice, but can we trade RJ for a member of the Sun's training staff?"
"Holy crap! I'm sitting next to Eva Longoria!"