What Would Jacob Riis Do? Winning a Title
The Spurs enter their annual rodeo road trip with a disappointing loss in what has been a frustratingly inconsistent season. While the Spurs have been okay, the moves made this summer were done with grander plans in mind than okay.
Today and tomorrow each writer here at 48MoH will play devil's advocate for one of four positions regarding the Spurs and this trade season: making no move, a minor roster tweak, a huge trade or focusing on the future.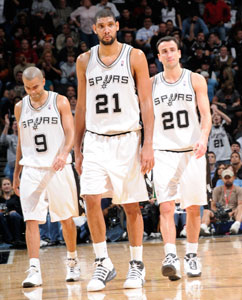 Crafting championships is a long process. Sometimes we, as observers, tend to lose sight of the work in anticipation of our expected results.
In such instances, someone much smarter than I once quoted someone he would say is much smarter than all of us. That quote famously hangs as the mantra he runs his organization by:
"When nothing seems to help, I go look at a stonecutter hammering away at his rock, perhaps a hundred times without as much as a crack showing in it. Yet at the hundred and first blow it will split in two, and I know it was not that blow that did it, but all that had gone before."
Gregg Popovich uses Jacob Riis' words as a metaphor for building slowly towards something. Given this quote and the Spurs' results, we too often see them as a specific set of instructions, or a script to be followed to the last word.
A slow start, followed by the head coach's annual "soft" rant, and then a chemistry building road trip on a way to a championship. Sound familiar? The script has been so consistent that writer's have compared it to Groundhog Day, asFran Blinebury of NBA.com did in a recent article. But what happens when the actors deviate from the script a little?
Never mind that Punxsutawney Phil, that one-day-a-year-working groundhog with the great PR firm. In the NBA, you can usually tell February has arrived when the San Antonio Spurs poke their heads out of their burrow, appearing fit and ready to roll towards the playoffs.

But as Groundhog Day draws near this year, it's the Spurs who need to be poked with a stick and roused from their hibernation. A season that began with great hope is becoming mired in a bog of empty promise.
This season the signs seem to finally point towards the Spurs demise. Difficulties beating winning teams, leaks in the defense. It's certainly a change from past years. Or is it? For a bit of perspective you would do well to read Hollinger's pre-Rodeo Road Trip piece from last season.
San Antonio is only 9–10 in its past 19 games, and only 2–6 on the road in that stretch — not a good omen for a team that will be living out of suitcases for much of the next month. And they haven't beaten a team with a winning record since December 15.

For the moment, everyone presumes the Spurs are laying low before their annual blast through the latter part of the schedule, but, looking at their results of late, some doubt has to creep in. San Antonio is getting little from it's role players, and the normally airtight Spur defense has sprung some rare leaks.
Then the Spurs rallied, tightening their defense and ultimately winning the Southwest Division before falling to the Mavericks in the first round, thanks to a set of injuries to Ginobili and Duncan.
The point I would make in my argument for keeping the team intact would be that each season, just as each stone, is different. Just because the plaque states on the hundred and first blow the stone split in two does not mean every stone will break in 101 blows. Some take longer, especially when working with unfamiliar tools. Follow the process, however, and the results end up satisfactory more often than not.
This does not mean that I believe the Spurs will come through simply because they are the Spurs. In even the best stone masons, tools become dull and muscles wane.
Based on their performance to date, if the Playoffs started today would the Spurs win? No. But that's not the question my colleagues have posed. Are the Spurs, as presently constructed, capable of winning a title? I honestly believe so.
For all the complaints about Pop's rotation tinkering or small ball lineups, what has to be remembered is none of these regular season games, individually, will win a title. There are probably a number of set combinations that would put the Spurs ahead of the curve now. But settling on those early eliminates the possibility of finding an even greater potential.
I do not presume to know more about basketball than Popovich or any of the Spurs staff, but I do have my own thoughts on how this roster can compete for an NBA title.
The first step, I believe, was the reintroduction of Antonio McDyess into the starting lineup. Without Bruce Bowen in the lineup it has become increasingly difficult for the Spurs to contain penetration (whether it be Hill or Parker defending). As such, having another presence capable of altering shots is imperative and a step towards returning to our previous defensive philosophies.
I'm not a small-ball basher. It has its place. But the Spurs are a better team when the personnel allows them to serve small-ball up as a side dish, not the main course. At heart San Antonio is a defensive team. And there are two shot-bothering bigs at the heart of their defense.
And while those philosophies have lent themselves to a bend but don't break Cover-2 system (to borrow from football), if the Spurs personnel continues to have trouble locking down maybe it's time they start blitzing.
For years the Spurs system has been enhanced by Ginobili playing outside of it. In our most successful season he's usually paired with a similarly inclined big that played with energy and controlled chaos (Rose, Robert Horry and Fabricio Oberto).
Blair might be too short to challenge many shots once inside, but he is agile enough, instinctual enough and has quick enough hands to help create turnovers when teamed with Ginobili and George Hill. While I'm not advocating totally abandoning our defensive principles, installing some of the traps and pressure defense Larry Brown has taken to the Bobcats might be useful.
The final piece, I believe, will be the return to prominence of either Manu Ginobili or Tony Parker as devastating scorers. Last playoffs the Spurs were exposed when none of the role players were able to do anything once Parker or Duncan broke down the defense.
This season the Spurs have a myriad of players capable of taking advantage of a broken defense. The only problem is that Ginobili and Parker have been ordinary enough as scorers that defenses have been more apt to stay at home.
Whether through rest or just continued rehabilitation, one of the two will break through eventually and take the games of our role players (Richard Jefferson, McDyess, Hill and Blair) to new levels.
How do I know this? Because if both fail, there isn't a trade the Spurs could pull off that would provide a big enough hammer to break this stone.